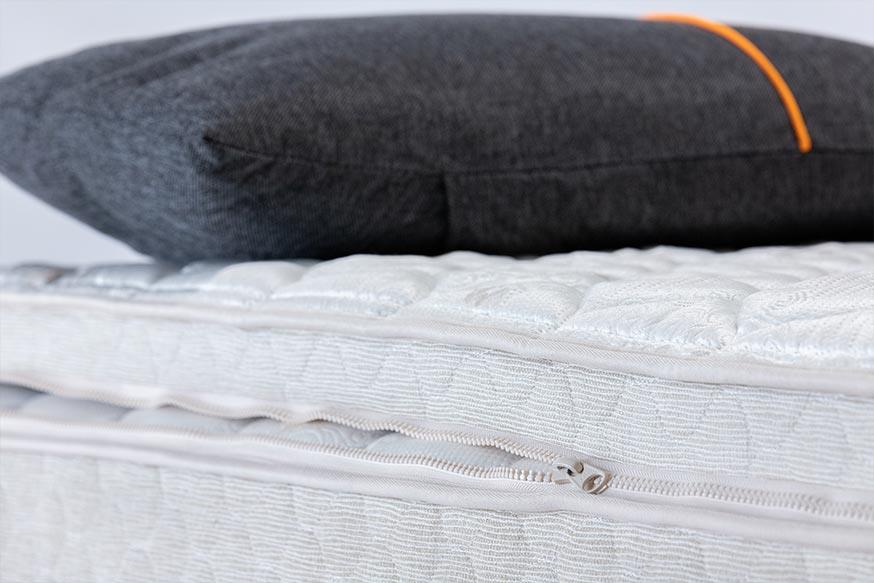 Our Toppers
The features of Mattress Company Mattress Topper.
When purchased with your mattress will be secured with zips – one on each side of the mattress to still allow you to flip and rotate your mattress. In essence a bed with a topper has three feels – supportive as a mattress only, softer with a zipped topper and softest with the topper unzipped.
The can also be purchased as an after-market accessory for any bed which would be attached with elastic straps or tuck in fabric skirt.
Latex (98% pure) in Soft and Medium.
Viscoflex (Memory Foam) anti-pressure with a choice of comfort in Soft & Medium.
Copper Infused Gel foam for a more comfortable night's sleep.
Fusion GelTM a balanced temperature product for a cool night's sleep.
Latex
100% organic with the highest purity and quality available with a Medium or soft feel.
Unlike other man made materials used in mattress manufacturing Latex provides the absolute, ultimate quality, durability and comfort.
Biodegradable and environmentally friendly. Pin cored for natural ventilation. Naturally hygienic, hypo-allergenic, non-toxic. Bed bugs and vermin cannot live in latex.
Available in all of our various mattress coverings.
Next Generation Viscoflex memory foam
Available in Medium or soft.
Anti-pressure memory styled foam with superior breathability 91 litres of air per minute can pass through compared with a standard memory foam at around 11 litres per minute. Incorporating Ultra-FreshTM for antimicrobial protection.
Available in all of our various mattress coverings.
Fusion Gel
Available in Medium
FusionGel combines the pressure relieving comfort of our superior memory foam with the energy-absorbing support of advanced gel particles. This is infused with gel, which is a material known for a high heat capacity and conductivity, the result is an advanced material with the ability to rapidly channel heat to help regulate your body temperature while sleeping.
Available in all of our various mattress coverings.
Copper Gel
Available in Medium
Copper is a completely natural and environmentally friendly mineral. Copper naturally provides protection against viruses and microbial growth to prevent odours and stains in the product. The high conductivity of copper complements and enhances gel's thermal properties to help dissipate excess body heat, providing a cooler and more comfortable sleep. Again a pressure relieving style foam.
Available in the one fabric.