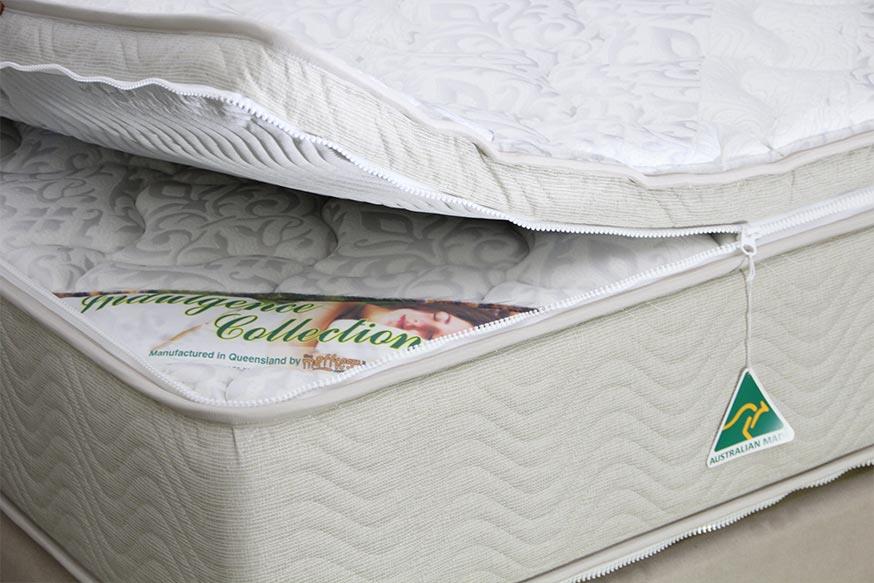 The Indulgence Collection
Double sided Mattress
TencelTM, Adaptive® and SeaqualTM technology
Quilt wool layer which improves air circulation for a more comfortable night's sleep. Sensitive Choice approved. Fabrics by Bekaert Deslee and also Foams by Dunlop Foams. Hospital Grade support foam standard. With premium Forestex and Seaqual fabric treated with Adaptive technology this mattress creates a cool sleeping surface allowing you to sleep easy all year around.
Including;
Anti-Microbial
Anti-Dust Mite
Anti-Fungal
Support systems available;
Latex 98% pure (7 Zone)
Innerspring
Interactive Pocket Spring (7 Zone)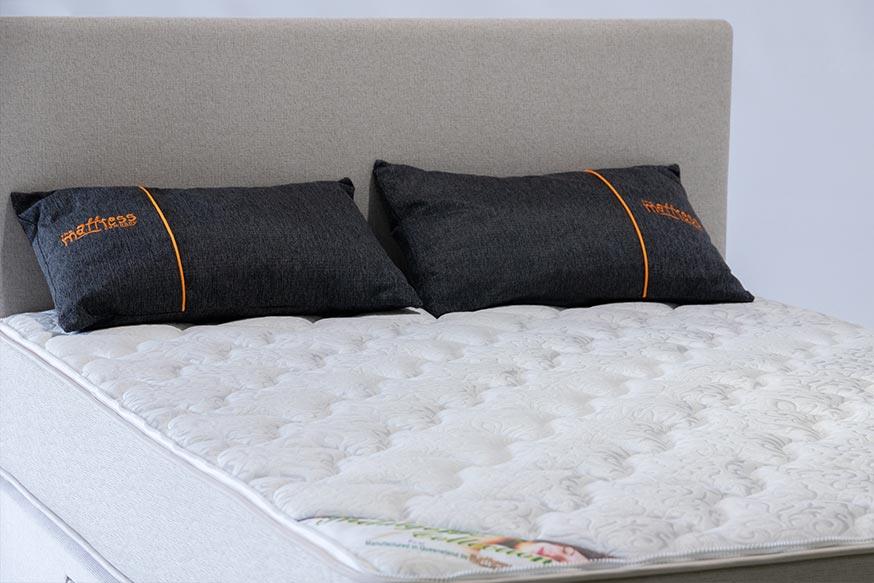 BUILT FOR PURE INDULGENCE.
The Indulgence collection was designed for optimum comfort and durability.
With the choice of either LFK Innerspring, Latex or the extremely supportive Interactive Pocket Spring support systems, this range will ensure you never want to sleep on another mattress again.
With premium Forestex fabric treated with Adaptive technology this mattress creates a cool sleeping surface allowing you to sleep easy all year around.
Warranty
LFK: 10 Years
Pocket Spring: 10 Years
Latex: 10 Years
Pricing
Please contact us for pricing
Component Breakdown:
Featuring Forestex Fabric: Forestex fabrics are constructed with yarns that derive from wood pulp which is a renewable resource and is biodegradable. A considerable part of the wood pulp comes from dead wood found in the forest, pruning wood (not round wood from the main stems of the trees), manufacturing wood-waste or wood from sustainably managed forests, where new trees are planted for every one that is harvested. Our Indulgence Forestex fabric is cool to the touch and has a silky feel making it soft and pleasant like bamboo.
Adaptive (Cooling Effects): Our Indulgence's Forestex fabric is treated with Adaptive technology. Adaptive is a treatment that changes passive textiles to textiles with a dynamic response to environmental changes like temperature and humidity. Adaptive uses the energy (heat) of your body to boost moisture wicking, moisture evaporation and cooling. Adaptive keeps you comfortably cool and dry and improves the quality of your sleep. Efficient moisture management also increases hygiene and the durability of the fabric.
Health Guard: Millions of people suffer from allergies, skin irritations, asthma or other respiratory diseases. Medical research has shown that dust mites are a major cause of these complaints. It has long been known that dust mites live in mattresses, sofas, carpets and all the synthetic and natural fibres with which we surround ourselves. Health Guard is applied to our fabrics to add anti-dust mite, anti-bacterial, anti-bedbug, anti-mosquito properties ensuring you get the best sleep possible, allergy free.
Quilt Wool: Quilt wool provides an additional layer of comfort in the mattress, allowing more air to circulate throughout the upper layer allowing the mattress to breathe. We use a very high quality wool in our mattresses, with a wool content of over 300 grams per square meter, well exceeding the industry standard.
Dunlop Hospital Grade Quilt Foam: An additional layer of Dunlop Hospital Grade is quilted directly into the fabric layer on the mattress, providing the first layer of comfort. This extra layer of foam provides a plush but supportive layer that adds to the durability of the mattress while increasing comfort and reducing the mattresses upper padding from flattening over time.
Dunlop Hospital Grade: Dunlop Hospital Grade is a premium quality high density foam, far exceeding the industry standard in density. Foam breaks down between 3-5% per year so density is extremely important when considering the lifespan of a product. As foam breaks down its resistance can change, meaning your mattress will soften over time. Hospital Grade will keep your mattresses feeling as it did the day you purchased it for far longer. Hospital Grade Foam, was designed with endurance in mind, designed for specialist bedding and furniture applications, it is incredibly hard wearing. Hospital Grade is fire retardant (source 2) and Ultra-fresh treated meaning it has anti-microbial properties, giving you peace of mind for a great nights sleep.
Ultra-Fresh: Ultra-Fresh antimicrobial treatments are recognized world-wide as the standard for antimicrobial protection in foams. Treated foams exhibit excellent antibacterial and antifungal properties and ensure protection from the growth of unwanted microbes. Studies have shown Ultra-Fresh treatments are also effective in preventing dust mite colonies from becoming established in treated articles. Wherever bacteria, mould, mildew and fungi compromise product performance, Ultra-Fresh will take control. Ultra-Fresh antimicrobial treatments inhibit the growth of bacteria and fungi responsible for creating unpleasant smells and staining in textile and plastic products. By controlling unwanted microbes, Ultra-Fresh antimicrobials help to keep products fresh, hygienic, and odor free.
Felt Insulators: The age old story of being poked by a spring in the middle of the night is something almost everyone has heard, the idea behind a felt pad is to eliminate the chance of this happening to you, ensuring a great night sleep every night for years to come.
Side Support System: We employ side support systems primarily to prevent any failures and dipping in the side wall of the mattress. Having a side support system in a mattress carries the additional benefit of increasing the overall sleep area by preventing any rolling or bowing of the edge of the mattress, stopping you from rolling out of bed.
Simalfa Glue: Made in Switzerland, Simalfa glue is an odourless, incredibly strong water based two part glue system made with the environment in mind. In the company's own words "First and foremost we're an environmental company. Our mission is to assist in eliminating hazardous chemicals that are being used by companies today through the offering of environmental solutions that work. We're extremely different than the traditional adhesive companies you may come in contact with. We don't produce or market products that contain any known hazards such as solvents…and we never will. We have strict internal company standards to protect our environment and the people who work with our products. We know of NO other adhesive manufacturer who can state this!" Their incredibly robust and efficient glue, combined with its natural properties has solidified Simalfa as our only mattress adhesive.
Featuring Bekaert Textiles: Bekaert Textiles is the leading specialist in the development and manufacturing of woven and knitted mattress textiles and bed cover materials. All Mattress Company fabrics are made in Australia and produced by Bekaert Australia. All fabrics are Health Guard treated to ensure lasting quality and comfort with anti-dust mite qualities.
Featuring Dunlop Foams: Dunlop has been in the foam industry for over 70 years and is Australia's leading foam supplier. Employing over 2000 people, Dunlop innovates and strives to produce products of the highest quality. Partnered with Ultra-Fresh and accredited by Good Environmental Choice Australia (GECA), Dunlop foams has solidified itself as The Mattress Company's sole foam supplier.
Available In:
LFK Spring: With a dramatically higher spring count than the commercial grade Bonnell spring unit, the LFK unit offers greater support and increased durability. This translates to a higher quality spring unit suitable for a wider range of applications and great for a domestic customers.
Latex: Latex is a highly resilient natural product used for a variety of applications. All Mattress Company latex is 98% pure, containing only 2% binders to hold the latex together. Latex is an incredibly dense product that breaks down very slowly making it an excellent support system. Latex tends to break down at a rate of only 1-2% per year meaning it has an incredibly long life cycle. At face value latex mattresses can seem expensive, but due to the lifespan of the product it can be a great investment. All of our latex mattresses are solid 200mm or 250mm blocks, no fillers, no foams and no springs meaning you have a very natural, well wearing mattress.
Interactive Pocket Spring: Interactive pocket springs are an innovative spring system with two different coil types that are vertically staggered for a particularly smooth absorption of the pressure load. This becomes a dual layer system that gives an incredible amount of support. Interactive pocket springs adapt to your body by adding support in high pressure zones effectively automatically zoning to suit each individual. This means your body gets the support it needs when and where it needs it. Interactive pocket springs have almost 40% more springs than a standard pocket spring, giving this system better support, even further reduced partner disturbance.
Additional Options:
Removable Pillow tops: We offer a range of removable pillow tops to achieve varying supports and comforts. Pillow tops are attached by heavy duty YKK zippers, the means when it comes time to flip and rotated your two sided mattress, you are able to remove the pillow top and attach it to the other side of the mattress. This means that the pillow top becomes the wearing part of the mattress. Come the time the pillow top wears out, you are able to purchase another to give your mattress new life. We offer pillow tops made of Visco-flex Memory Foam, Latex and Fusion Gel Visco-flex. All pillow tops carry a 5 year warranty
Visco-flex (Memory Foam): Visco-flex is a very soft but durable foam designed to contour to your body and give a cloud like feeling to your mattress. This can be great for people that like mattresses soft and also people that like mattresses firm by allowing a nice cushiony layer before the primary support of the mattress kicks in. Visco-flex comes in two hardness's for a wider range of choice and achievable feelings in the mattress.
Latex: Latex is an extremely durable product that offers a firmer level of cushion than Visco-flex. Latex is a great choice for people that want a natural product in their mattress but still want the added comfort of a pillow top. Latex is more supportive than the standard memory foam which can be a good thing for people that like firmer mattresses.
Fusion Gel Visco-flex Memory Foam: Fusion Gel infused memory foam is a new product by Dunlop. Gel particles are impregnated into Visco-flex memory foam to create a temperature neutral foam. Foams have a tendency to heat up above room and body temperature, Gel particles reduce this effect. This means the foam does not heat up above your temperature, so you won't wake up in a hot spot in the bed in summer. In winter the Fusion Gel will still stay temperature neutral so your mattress will not be cold, but your temperature.
Copper Gel Toppers – A copper infused Memory foam by Dunlop
Copper Gel is an exciting new copper-infused memory foam. Copper is a completely natural and environmentally friendly mineral. Copper naturally provides protection against viruses and microbial growth to prevent odours and stains in the product. The high conductivity of copper complements and enhances gel's thermal properties to help dissipate excess body heat, providing a cooler and more comfortable sleep.
No Tear Handles (LFK Only):Our handles are heavy duty and designed to last. We attach our handles to the spring unit itself inside the mattress, this means you won't tear the handles off the fabric on the outside of the mattress so the handles will last as long as your bed. Due to the fact we only attach handles to the spring unit of the mattress, we are only able to fit handles to beds containing the LFK support system.
Zip-Off Wool Mattress Protectors: An additional option for your new mattress is to have an 850gsm removable, washable Australian made wool top. Fixed in the same way as our pillow tops, by a heavy duty YKK zipper, our wool tops are extremely high quality and soft, not scratchy. Having washable wool on your mattress will improve airflow between you and the mattress while protecting against any accidental soiling of the mattress.